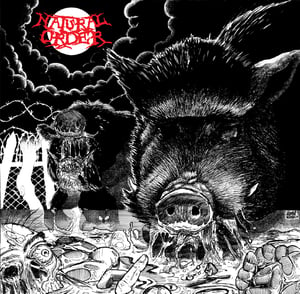 £

4.00
Natural Order 7" on either heavyweight colour vinyl out of 200 or heavyweight black vinyl out of 300. Purgatory Records.
Colour Vinyl is nearly sold out.
The Natural Order 7" was recorded to tape in late 2011 at Parr Street Studios in Liverpool, which has been used by such artists as Carcass, Machine Head and Echo and the Bunnymen. It was then mixed by Tom Avon at Toybox studios, then mastered by Alan Douches (Converge, Hatebreed, Fleetwood Mac) at West West Side in NY. The whole process was kept entirely analogue at all times.
The 7" consists of four songs of abrasive, discordant, noisy metallic hardcore. Lyrically, themes that examine the darker side of the human condition are prevalent, with subjects such as rioting, mental illness, first world privilege and the value of humanity itself explored.
You can hear two songs from the record at:
soundcloud.com/naturalorderhc
Artwork by Aidan Cook.
var _gaq = _gaq || [];
_gaq.push(['_setAccount', 'UA-39068730-1']);
_gaq.push(['_trackPageview']);
(function() {
var ga = document.createElement('script'); ga.type = 'text/javascript'; ga.async = true;
ga.src = ('https:' == document.location.protocol ? 'https://ssl' : 'http://www') + '.google-analytics.com/ga.js';
var s = document.getElementsByTagName('script')[0]; s.parentNode.insertBefore(ga, s);
})();